Best Bonefishing Belize offers to Anglers
Bonefish have always been seen in large schools around the islands and flats off the coast of Belize. Now a protected species, many Fly Anglers travel here to experience the best bonefishing Belize has to offer.
Turneffe Atoll located east of Belize City, has plenty of shallow flats perfect for novice anglers looking to learn fly fishing and catching a bonefish, permit or other fish for sport. For the Avid Anglers, this and other destinations will have you landing bonefish in the double digits.
Whether you are staying in San Pedro on Ambergris, Placencia or as far a Punta Gorda, Nauti by Nature can take you on a full day of adventure fishing or couple of days, for those looking for an extended stay on the waters.
Grand slam:
Bonefish, Tarpon & Permit
Ask Capt. Jermain where is the best fly fishing in Belize and go for the Grand Slam!
Captain Jermain of Nature by Nature took a family to south Water Caye and taught  his client son, future anglers how to fly fishing for bonefish.
Belize Fly Fishing Guides
As you probably have read before, Jermain is a third-generation fisherman, he has been on the waters all of his adult life. Somewhat a-loner among the flying guides of Belize, Jermain has got his knowledge and love of the sea from his father, grandfather and other male figures who worked the sea for a living.
Which fishing resorts in Belize are good for families?
They are plenty of fishing resort along the coast and on the islands offshore. As this family found out South Water Caye is a great place for the entire family to enjoy. This island is the location of Pelican Beach Resort and Blue Marlin Beach on the island offers great opportunities of landing the grand slam.
While these fishing resorts are great for a family, there are many others such as Blue Bonefish Lodge, you can read about these resort in our top 10 Belize Fishing Lodges & Resorts. Anglers can enjoy great fishing packages and amazing fishing trip with Nature by Nature while staying at these places.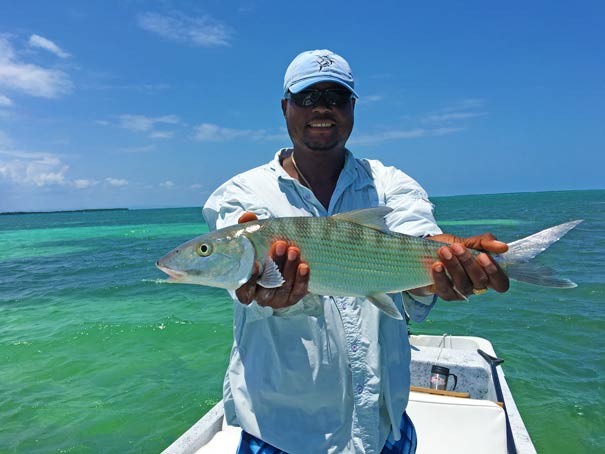 Nauti by Nature offers plenty of fishing charters for avid and novice anglers. Go Deep Sea fishing, trolling, drop fishing is fly fishing is your type of fishing. The Rainy season is a great time to catch snook and other fish species lurking at the river mouth.
Our Belize Fly Fishing Packing list covers all you need to pack for your fishing vacation. We do have Rods, lures, flies and a wonderful attitude for a great time on the water.
Easy book a day or two bonefishing or any type of fishing Trips we offer. Captain Jermain is sure you will have a great time on the Flats, lagoon, reef and other fishing location.
Book Your Bonefishing Belize Trip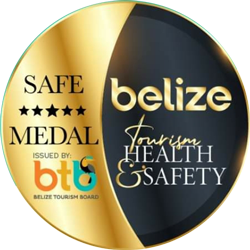 Gold Standard Certified
What Fishing Charters & Tours in Belize are taking additional safety precautions?
Nauti by Nature Belize has additional safety precautions to its fishing trips, by completing the Belize Tourism Board Safety Protocol Training. As a small fishing Charters company, using our service is a great way to avoid crown and stay safe during these time.