Why you should travel to Belize for sport fishing?
Locating Belize on a map is quit simple. This small Central American country is location on the south eat end of Mexico, due east of Guatemala. Belize shares its borders with The Mexican state of Quintana Roo on the Yucatán Peninsula and The Department of Peten in Guatemala. Its beaches, islands, Atolls and Barrier reef are all in the Caribbean Sea. 
Belize uniques history make it both apart of the central America and the Caribbean. This is a clear hint of the language and ethnicity of the people there.
Belize is the second smallest country in Central America.
In the history of Belize you will learn it once colonized by Britain and was named British Honduras.
The official language spoken is English, the vast majority of people speak English or creole.
The United States dollar is accepted everywhere at an exchange rate of 2BZD to 1USD, Banks, however, offer a little less on the exchange.
Belize is one of the safest countries to visit in Central America.
The country is home to the largest barrier reef in the western hemisphere.
It is the location of a famous Unesco World Heritage site called the Great Blue Hole.
Offshore lies 3 of the most beautiful Atolls found in the region.
It has the world's one and only Jaguar Preserve, located in the Stann Creek District.
Sometimes referred to as the Old Capital, Belize City the largest city.
Many Expats live among Belize various ethnic groups: Belizean Creole, Mestizo, Maya and Garifuna.
The Country celebrates its independence in September
Travel to Belize by Flight
Belize is located just two and half hours (2.5hrs) by flight from the United States. Some state can enjoy direct flights to Belize International Airport (BZE).  They are seasonal flights as well as weekly flights. Los Angeles, Denver, Dallas, Huston, Newark, Atlanta and Miami are a few places you can catch a flight to Belize from the United States.
The Belize International Airport or Phillip S.W Goldson International Airport is the only one in the country all International flights arrive and depart from here. Domestic flights to Ambergris Caye, Caulker, Hopkins, Placencia and Punta Gorda leaves here also.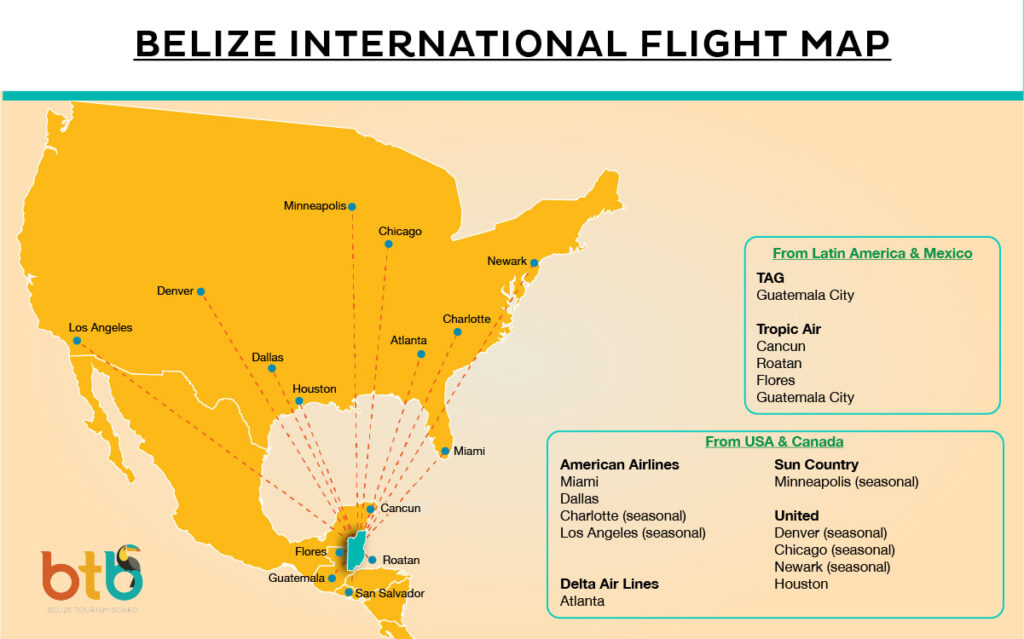 Amazing Fishing and Other Adventures
If you can point between Jamaica, Cancun of Honduras on a Map. You will pretty much be pointing way offshore Belize. As you make you way west to Guatemala you will come across an Atoll know as lighthouse Reef Atoll, home the Belize's Great Blue Hole. This is just one of the Many places you can scuba dive, Fishing or Snorkel.
As you make you way to Belize main lands, you will discover dense jungle and Rainforest, littered with the ruins of the Mayan Civilization. you will find many river, Cave and breaking Waterfalls. Like so many before you who had discovered, Belize location on the world map, discovered is friendly people and rich culture.
As most anglers know Mexico is famous for fishing, this make is more interesting that Belize should be on a anglers must do list. The country has deep roots in ts fishing industry of using the Mexican Panga boats for fishing. The Panga boat at now outfitted for fly fishing. On the coast you can expect warm water all year rough, great for catch various species of fish.
Naut by Nature Fishing Charters, as long by offering Guided fishing charters to some of the most pristine flats in Belize. The Reef offer great deep sea or blue water fishing.
Where is Belize located geographically influenced its people and landscape. It is certainly a destination in Central America you would want to visit.
Belize Location and Travel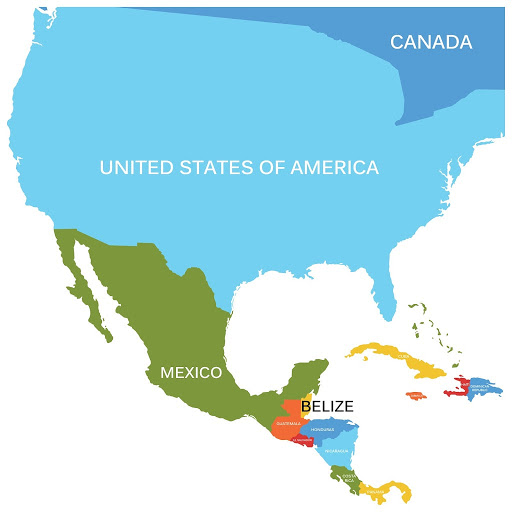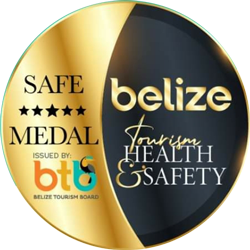 Gold Standard Certified
What Fishing Charters & Tours in Belize are taking additional safety precautions?
Nauti by Nature Belize has additional safety precautions to its fishing trips, by completing the Belize Tourism Board Safety Protocol Training. As a small fishing Charters company, using our service is a great way to avoid crown and stay safe during these time.